Thailand Vaccinations - It is similar to cattle prodding.. on my arms... x6
I've done research over the years and had somewhat of an idea what was needed as far as vaccinations for going to Thailand. Turns out, there is far more to it than I had thought. I went to my primary doctor who referred me to a Travel Specialist Clinic. Who knew there was such a thing? I made an appointment and stated I was going to Thailand and wanted a consult. Specifically, backpacking Thailand, which puts a whole different twist on things as I plan to spend a LOT of time outdoors, in rural areas, amongst the vast mosquitoes and monkeys and rabid dogs, not to mention a host of other possibilities. I learned a great deal from the travel clinician! And I also got a great deal of OUCH from her too. Over the course of 5 weeks I will have had a total of 13 shots in my arms, a few different blood draws, and a lot of ammo to confirm my idea of traveling to Thailand for 2 months.
Not my real clinician, but just as much excitement on her face to shoot me up as this guy (Taken from a google search)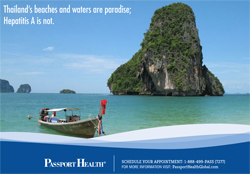 Seen in the doctors office.. Noted.

After the first round, where I got 6 shots (3 in each arm) and 2 things of blood drawn, reality set in. I asked the nurse more than once if she was SURE I should get 6 vaccinations in ONE day.. she assured me it was ok. In my mind, I was going to have some sort of internal war between arms and the strongest vaccination would win, causing the other arm to give up in defeat and fall off. Ok, that might be extreme, but I still shake my head at how my body can handle six various shots in one sitting and not self-destruct. I was not going to be stabbed and injected with burning goo for nothing. I am going to Thailand. Its been 'real' in my mind this whole time... but I wasn't going to let 6 good vaccinations go to waste!
Round One





One week later, I returned for a couple more shots - one in the main area of my upper arm, and one... the worst one so far by a LONG shot (haha), injected firmly into the lower part of my bat wing. Ya know, the area in which you hold your arm directly out to the side of your body and shake it - and it shakes with you? Yeah, on the BOTTOM side of the batwing came THE nastiest shot thus far - she said it would burn and she did not lie. Two days later, the burn remains slightly. I also received a whole booklet of info on what shots I have received so far. A lot of mosquito illnesses, rabies, vaccine boosters, and randoms. #PackDeet
I also got a script for anti-malaria pills... 90 pills - to start 2 weeks prior to my trip and continue through one month beyond my return. Oh, and 'Traveler's Diarrhea' pills - apparently i need to watch what I eat over there or I need to take a dose of TD pills, and she gave me one extra dose "just in case". She couldn't, or didn't, tell me what to eat vs not eat aside from the standard "fully cooked foods and fruit with thicker skins". Not super helpful in narrowing down where my poor luck could come into play, but regardless, I am 'armed' LOL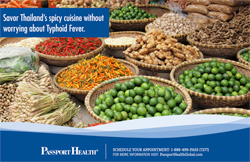 Entertaining fliers found online @
https://www.passporthealthglobal.com/ca/destination-advice/thailand/
Something else I asked the travel specialist about was the warnings that came with said pills that I need to take daily.. They clearly state "AVOID PROLONGED OR EXCESSIVE EXPOSURE TO SUNLIGHT,,,". I googled Thailand weather, which I know is THE best in the months I will be there... but to be exact, Thailand only averages 2MM of rain in Dec and Jan. Is that amount of sunlight then, excessive?! And I am hiking through the country, literally. So, is that considered PROLONGED exposure? Note to self, bring high SPF sunscreen and a lot of it! So many things to think of for this trip, its getting a little overwhelming! I have started a three ring binder for all of my notes and to do lists... Anxiety setting in in 3...2....1....
Taken from: http://www.absolutethai.com/know-your-vaccinations-for-visiting-or-staying-in-thailand/